For the last 4 months we have been on a mission to expose one of Melbourne and the worlds philanthropic 'secrets'.
Starting from 'social media scratch' we created the core interaction point of https://www.facebook.com/KindnessTrust, did the graphics, initial three months of posts and commentary response, and on an ongoing basis, trained the client until they were happy and proficient in the nuances of Facebook. The community is closing in on 5,000 members.
The truly remarkable thing about Facebook is the 'friend looking over your shoulder' exposure that is possible. As the following image shows, a community of less than 5,000 has the potential to reach over a million and a half people.

The next element was http://www.youtube.com/kindnesstrust which now has 180,000+ direct views and over 1,000 subscribers (people who are notified each time a video is uploaded).
With viewers having sent in translations of the Kindness Trust founder's main speech in 18 different languages, purely of their own volition, the joy has also been seeing the YouTube community recreate their own versions of the video which was related to another 70,000+ views.
As part of the campaign http://en.wikipedia.org/wiki/Philip_Wollen was developed, https://twitter.com/kindnesstrust was created to auto-publish YouTube uploads and at short notice we arranged for Mr Wollen to speak at http://tedxmelbourne.com/.
Taking the message to the streets, Social Media elements were integrated into large building signage (Fig. 1) and a paid Facebook Promotions campaign was run against selected content to increase viral uptake.
By sourcing and releasing legacy footage, filming and production a series of home interviews, plus an award to Sir David Attenborough, then as a flow on flow on from the release of the initial material, capturing ongoing interviews, press articles and such has led to consistent community growth.
Time has also been spent ensuring all pieces of media are easy to share and link back to the core Facebook community page.
Additionally 3d artists were used to create introduction and outro animations to increase the perceived quality of the content.
Having provided the client guidelines on Social Media growth, training in system usage and best practices for Facebook, they are using the Social Media System to effect change around subjects they care deeply about.
Mr Wollens primary content piece – 'Animals Should Be Off The Menu'
Philip Wollen (OAM) awards Sir David Attenborough the 2012 Kindness Medal
Animation: Ahimsa – the beat of Kindness Trust
Animation: Do you understand (our Kinetic type?)
Fig 1. We Are Running Out Of Time – large physical banner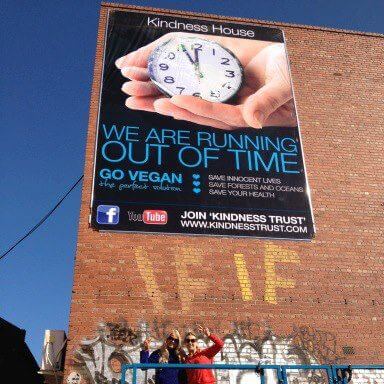 NB: Statistics are accurate as of Saturday, October 6th 2012
Do you know an organisation, person or company seeking to expose themselves and profit from digital marketing, video story telling and ethical behaviour?
Please get in touch via https://www.bravocharlie.global/contact/