When working with us the difference you will experience is the depth of our business acumen, and the speed at which we can summarise and pitch your value proposition – we're talking minutes, not months!
By focusing on interview journalism and asking better questions, firstly we support your growth as a business leader, and then we get insightful answers from your stakeholders, to paint the picture of where you are going in your market:
From event capture to online training courses, investor relations, AGM and research reports, project renewals and live sports casts, we've got over a decade of experience delivering high quality for inspired people, and would love to support you creating positive change in the world.  
"Philip's expertise, experience and commercial success on behalf of his clients justifies his overt enthusiasm for what Bravo Charlie can do.  He is a knowledgeable and engaging professional who I happily recommend."
– Mark Reid, Australian Governments' Enterprise Connect Business Advisor
CRAFTING COMPELLING CONTENT IS THE HEART OF WHAT WE DO
Bravo Charlie specialise in using interview journalism and insightful questions, to elicit responses from your team members and customers, that paint the picture of where your organisation is going.
Initially we will interview your team and customers, then use your styleguide and existing visual assets to create relevant graphics and titles.
Behind the scenes rough and final cut editing, music, captioning and quality assurance, colour grading, audio mastering, revisions and rendering will all go on, whilst we prepare for delivery, upload and distribution.
You will be impressed by the volume of material, astounded by the ease with which we were able to get the best out of your people, and surprised by the professionalism displayed in the finished products.
Time and again those who engage with us for their first time on camera don't believe in themselves, though we believe in them, and we don't stop until we've heard that "click" in the room – "the truth hums" is another way of saying it.
On set, getting that 'click' goes a little something like this:
FOR EFFECTIVE BUSINESS RESULTS, FILM FOR 2 DAYS, EVERY 3 MONTHS
Conducted over one, two or three days depending on your content appetite, this process is repeated every quarter, meaning in a 12-month contract, we will have four filming engagements with you, and deliver between 40 and 70 pieces of content.
This means there is something for every week of the year, as well as filming around your upcoming events and recurring activities.
The real value comes from when we integrate this material into your sales process, and arm your team with new skills and tools to engage and amplify stakeholder interest.
TURNING YOUR BIG EVENT INTO REUSABLE SALES TOOLS
Capturing a montage of testimonials from your clients is easiest when you're holding an event. 
This social proof is the low hanging fruit content marketing, and word of mouth has driven business since as long as humans have been trading!
By asking your clients why they're excited about what they do and how you support them to do more of it through your product or service, everyone is excited about the process and goes on to share the material.
The trick is to make people feel relaxed as first time contributors, and asking questions to elicit responses that will create engaging content. 
We take care of everything and all we need from you is a time and a place, and ideally walking some folks over with a bit of context about their relationship to you, and for best results, join them chatting on camera.  
You'll be astounded with the results 🙂
Having interviewed over 300 people at all levels of the C-Suite, our founder Phillip Bateman specialises in this interview format and is available for events, conferences, live broadcasts, and other engagements.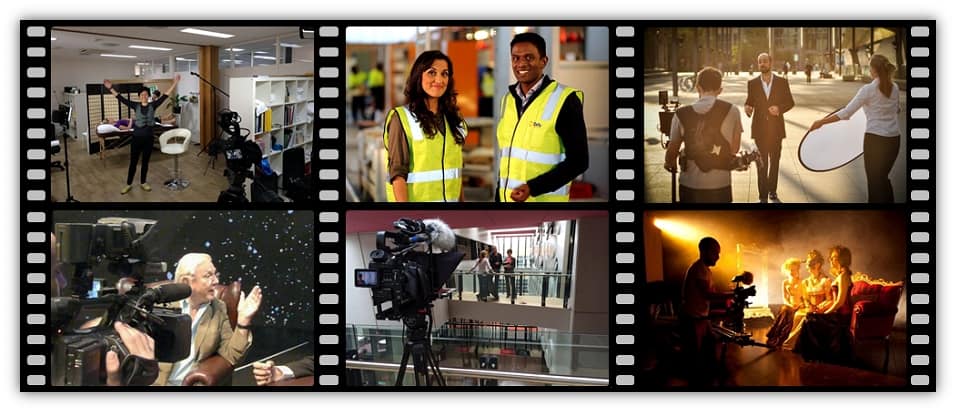 don't settle for pretty - do it right, first time
How many ways you can tell your story?  More than you can imagine!  
How much could you spend making videos?  A ridiculous amount!
Who is going to care about what you make?  Not many people! 
This is a good level of understanding to start from, because the majority of content we see online has no purpose.  It's pretty – it's made by wanna-be-film-directors and media students doing corporate work part time to get themselves their big break – though it lacks fundamental business acumen.
The same thing happens when you spend the money on a 30-second TVC (Television commercial) style endevour meant for broadcast and try to use it for 1 to 1 engagement – trust us on this and save the money as we've done it;  after the 3 minute piece was in the bag, and the cost of the 2 Arri Alexas', the additional high-speed camera, anamorphic lenses, steadicams, crew, extras, lighting truck and catering was tabulated, it cost us just shy of $14,000 a minute to produce.
The internet is highly personal.  It's an individual experience happening for a billion people at once, so traditional broadcast ideas, like nailing that one viral video, or creating your Superbowl advert, really aren't going to cut it for you over time.
Yes, you have an event you want to document, though how can we turn that into a scalable business tool for you?  How can we engage your stakeholders, measure and amplify your success?  
Remember, don't settle for pretty – do it right, first time